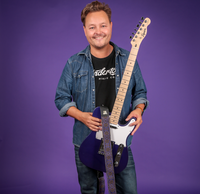 ABOUT DANISH PETE
Peter Honoré, aka 'Danish Pete', was born in Denmark, and at the age of 11 was given a guitar to try out. It was clear he had a natural aptitude, which grew with the help of tuition at a music academy in Copenhagen.
Pete went on to become a successful session guitarist, touring the world for over 20 years with artists such as Tom Jones, Lionel Richie, Nicole Scherzinger, and many more.
In 2015 he joined Andertons as their Youtube Manager and helped take the channel to over 666,000 subscribers in just a few years. He has become one of the faces of the Andertons' brand and is now an award-winning YouTube presenter.
Pete's main focus is to inspire people to pick up and play the guitar by doing masterclasses, YouTube videos, and creating backing tracks. To fund his channel, he sells merchandise on the Danish Pete Store and is also a member of Patreon.
SHOP HERE